Say, you've made a little browser app, in our case it'll be a workout app. It's just a static web page hosted on Github pages. Now we want to show the number of workouts completed. As the title suggests, we don't need to set up a server ourselves to make it happen.
Intro
Note a workouts counter below the "Start workout" button: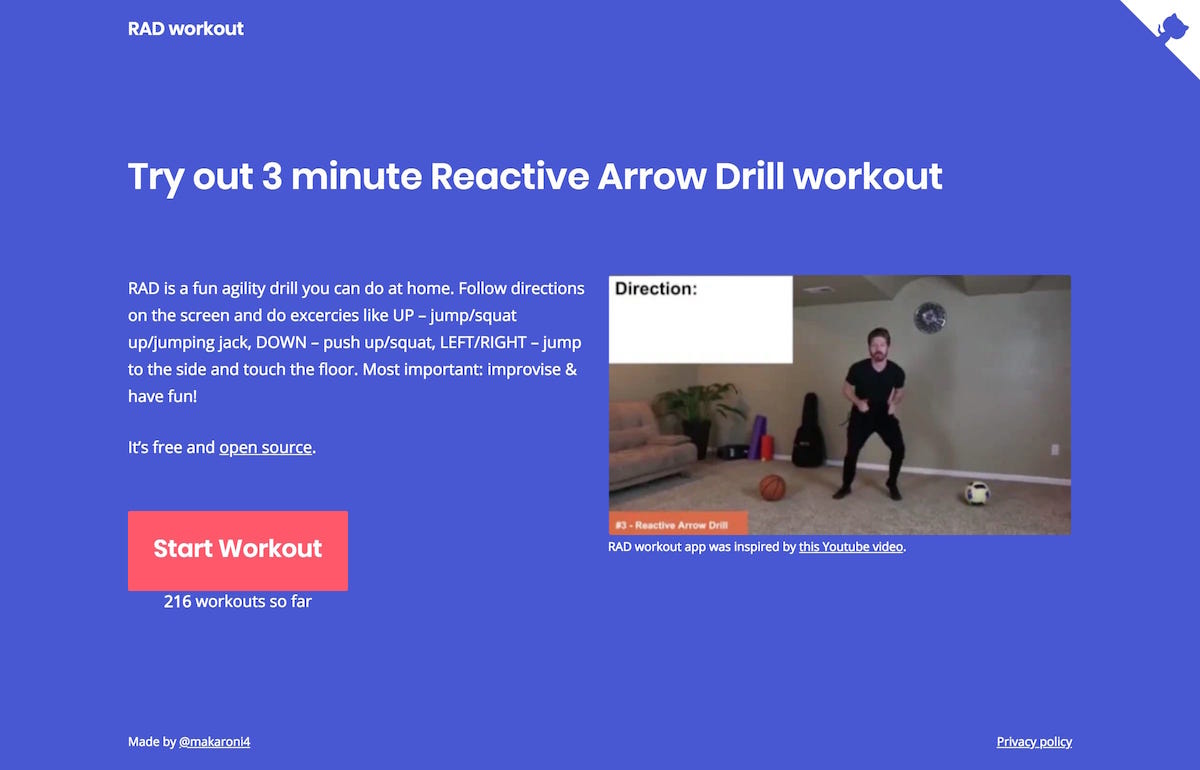 We want to increment the counter every time someone clicks on it.
Firebase
Firebase is a database platform from Google designed to power all your apps – iOS, Android, Web and more. So you can focus on development the app and not managing the database. Firebase has tons of products (different types of databases, ML and A/B-testing kits), but we'll focus on Firebase Realtime Database – cloud-hosted NoSQL DB. It's free up to 1Gb storage and 100 simultaneous connections, exactly what we need to implement a simple counter for our serverless browser application.
See the Pen Incremental counter via Firebase by Anatoli (@makaroni4) on CodePen.

See how simple it is? We just loaded Firebase from Google CDN, initialized our DB and we're ready to read and write from the database. Wait a second, read and write from the database? What about security? Out of the box there's a read & write permission for every user to your Realtime Database. Scary, right? Let's see how we can configure the access:
The config is a JSON file with 3 keys to descrube security rules: .read, .write and .validate. We'll enable access only to the key where we store our counter (incremental_counter). To allow only increments of one we can write plain JS and use some predefined variables (newData – the value we're about to write, data – old value etc).
With such validations we can easily make a "backend" for many applications: voting, polls and quizzes, NPS scores and so on. As for our workout app: check out the final implementation with Vue.js at https://makaroni4.github.io/rad-workout-app/#/. One detail you might like – the value of the animated and counted up from 0 to the value.
I hope it was a useful read for you, just in case you were looking for the full source of the Vue app – here's a Github repo. Cheers!

I work in Growth Development team at Blinkist (app that allows you to read/listen short versions of non-fiction books), we maintain our webapps, design & ship AB-tests, build API integrations, analyse user data to improve our web products for millions of users. If you're Rails developer with a passion for front-end or a web designer with a passion for growth – send me an email or ping on Twitter.